Steve Doudt
Pro Staff / Videographer
I was lucky to grow up in a whitetail and small game rich environment, in Naples, NY.  Before I was old enough to pursue deer, my autumns were spent educating the ruffed grouse and cottontail population.  It was during these times that I was first exposed to the mystical world of the Whitetail.  I remember many encounters with rut crazed and lackadaisical bucks in their pursuit of "love"! I couldn't wait until I was old enough to hunt these majestic beasts. 
I would become a "hunter/gatherer, build my home, and raise my family on a small corner of these hallowed grounds.  Because of my construction business and family, most of my hunting experience took place in NY. My love of the bow and arrow started during this same period. Local hunting experiences allowed me to harvest turkeys and many trophy and Pope & Young bucks. Reading Outdoor Life, Field and Stream and Sports Afield allowed my imagination to expand beyond my "Whitetail woods".  I was on a collision course with my destiny. It wasn't until my daughters were out of school and secure in their lives that I dared to seriously fantasize the dreams of my childhood.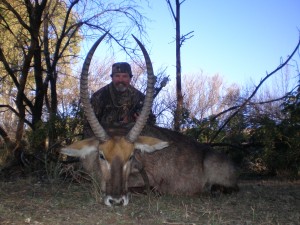 With the help of my life partner, Monette, I have been able to realize so many of my dreams.  Countless trips to provinces in Canada successfully resulted in taking woodland & Mt. Caribou, Moose, Black bear, Mt. Goat and White tail. Two trips to Alaska allowed me to harvest Mt. Grizzly Bears.  The first bear was a Pope&Young bruin taken at nine yards with my bow, the most memorable experience of my bow hunting adventures!  An archery hunt to the south island of New Zealand yielded the successful harvest of a Red Stag, Fallow Deer and Arapawa Sheep. With a rifle assist, I also harvested a chamois and a Himalayan Tar.   My dream of hunting Africa was realized a few years ago.  This archery hunt resulted in the harvest of a Kudu, Waterbuck, Impala, Caracal, Blue Wildebeest, and Aardwolf. 
My greatest thrills have been in our American West; Colorado, Wyoming, Arizona, Utah, Montana, Idaho, & New Mexico; where  I've been successful in harvesting Pope&Young Mule  deer and Mt. Lion.  With countless unfulfilled Rocky Mt. Elk tags for western states and provinces, being education by my greatest nemesis continued to humble and humiliate me!  This thirteen year quest ended last month in Wyoming, by taking a magnificent 300+", 6X6Rocky Mt. Elk.  So many close encounters over the years!  They live in my mind as freshly as the animals and photos that hang on the walls of my home, on the corner of the hallowed ground, where the dreams began.